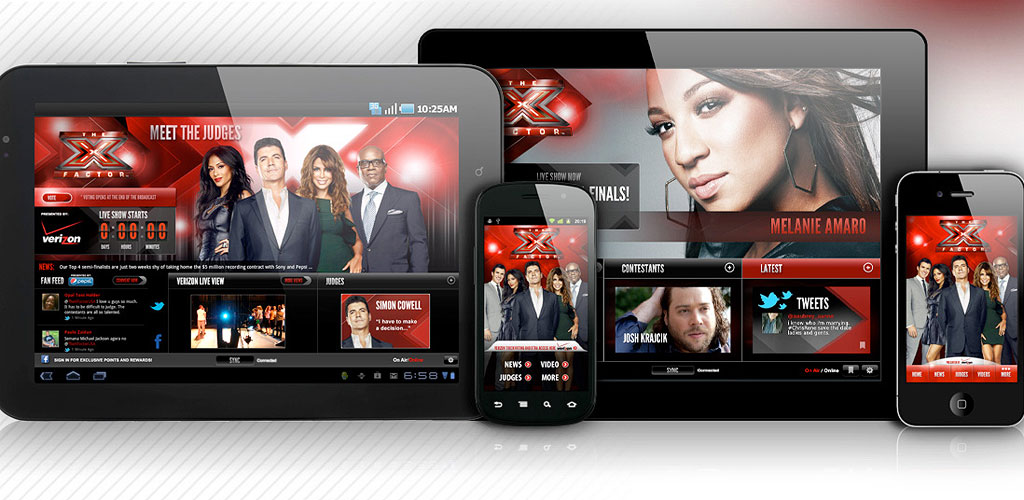 X-Factor Digital
For the U.S. launch of Simon Cowell's international hit television competition, The X Factor, Sony Music brought Marc Scarpa in to produce and direct a completely integrated second-screen experience and live digital pre-show. In addition to watching the X Factor live on television, the audience was now able to participate on multiple platforms in real-time.
Participants could begin online with the Pepsi Preshow one hour prior to each live televised broadcast. As the pre-show ended, participants would engage in extended second screen story lines through the Xtra Factor App on their tablets. Programming included live Twitter conversation with the judges and contestants, access to backstage cameras, galleries from past performances, information about contestants' hometowns and the option download contestants' song choices as they were being performed.
The depth and breadth of the participatory experience that Scarpa directed minimized the gap for X Factor's viewers, making the audience participants in the program as opposed to passive viewers. Fox Networks leveraged X Factor's extensive online presence into the highest rated social media response for any broadcast series in 2011.
X Factor Digital was honored with a Cannes Bronze Lion for Branded Content and Entertainment at the Cannes Lions 59th International Festival of Creativity and won three Social TV Awards for Best TV Show- Specific, Best Social TV Integration of Twitter and Best of Show. It was also an Official Honoree in the Interactive Advertising category for the 16th Annual Webby Awards.
Client: FOX, SYCOtv, FremantleMedia North America, Sony Music Entertainment, Pepsi and Verizon
Executive Producers: Simon Cowell, Owen Leimbach, Jim Frenkel and Dan Pelson
Producer/Director: Marc Scarpa
Highest rated social media response for any broadcast series in 2011
1000 pieces of original content produced/syndicated
+350,000 App downloads
+64 million views of XFactorUSA.com
+160 million YouTube plays
+260 million Facebook impressions
+1.6 billion Twitter impressions
+2.87 billion engagements over 15 weeks

Download the case study