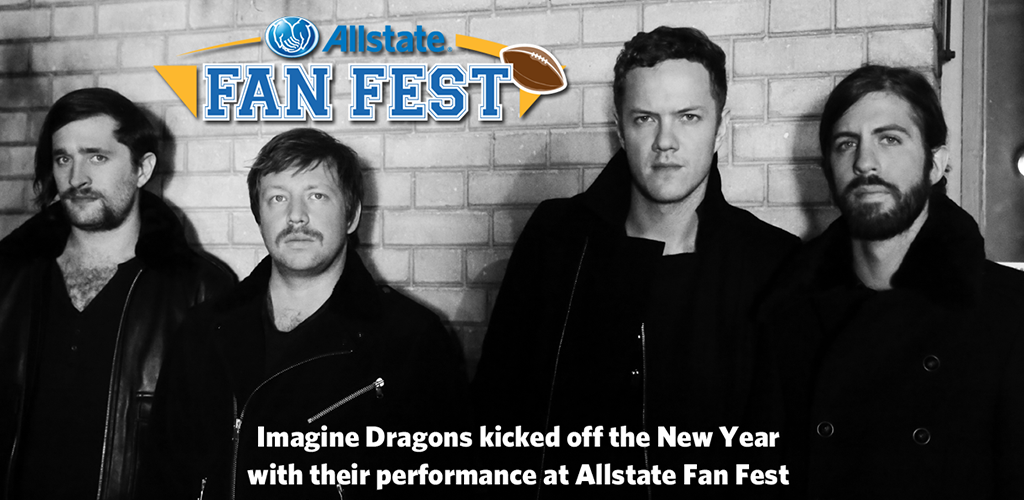 Allstate Fan Fest: Imagine Dragons
In the heart of the French Quarter in Jackson Square (in the Jax Brewery parking lot off Decatur Street), Allstate Fan Fest excited fans and built anticipation for one of the premier events in college football with school pep rallies, football-themed activities and free musical performances by some of today's most celebrated bands.
On New Year's Day 2014, Simplynew collaborated with Allstate and Octagon to livestream GRAMMY-nominated artist Imagine Dragons' free concert at the Allstate Fan Fest. The concert was broadcast online at AllstateFanFest.com and Facebook.com/Allstate in addition to other micro-blogging sites that embedded the livestream into their websites.
During the livestream, fans were encouraged to get in on the action by live tweeting the Imagine Dragons performance using #AllstateFanFest for the chance to be featured on the main stage video screen.
The concert became an international event as the stream was viewed in over 65 countries. The total impressions of the concert surpassed 160 million by the end of the night.
Director/Producer Marc Scarpa's real-time approach and social media syndication strategy transformed the Allstate Fan Fest concert into a truly participatory experience so that fans from all over the world could be able to interact with their favorite band.
After the show was broadcast live, the concert was uploaded as a VOD onto Youtube and Vevo and has garnered more than 300,000 views.
Client: Allstate and Octagon
Executive Producer: Allstate, Octagon
Producer/Director: Marc Scarpa
1M+ views on YouTube and Vevo
Streaming in 65 Countries
#AllstateFanFest became a official trending topic on Twitter with 8,500+ Tweets