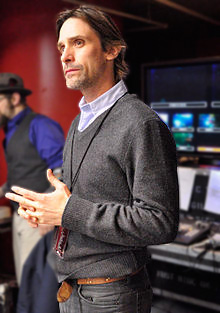 Simplynew¬†founder and executive producer/director¬†Marc Scarpa¬†has created¬†innovative programming for digital and traditional live broadcasting for the past 20 years. His artist collaborations include¬†Grammy Award-winning artist John Legend, 50 Cent, Alicia Keys, Beastie Boys, Elton John, Moby, Steve Aoki, Linkin Park, My Chemical Romance and Imagine Dragons among many others. Additionally, he produced and directed several pioneering 'Äúfirsts'ÄĚ for the live participatory programming genre including¬†The X-Factor Pepsi Digital Pre-Show and second screen experience, Incubus HQ Live, Grammy Live!, Global Citizen 2015 Earth Day & Earth Day 40th anniversary¬†from the National Mall, MySpace LIVE!,¬†Townhall with President Clinton, Woodstock 'Äô99,¬†HSX/Excite Rocks the Oscars¬†featuring Beck¬†and the historic¬†Tibetan¬†Freedom Festivals. ¬†He¬†is¬†currently executive producing an original new¬†series for¬†AXS TV,¬†entitled¬†'ÄúBreaking Band'Ä̬†hosted by¬†Donovan Leitch¬†featuring rock legends¬†Dave Navarro, Sebastian Bach, MOBY, Robin Zander, Belinda Carlisle and Mark McGrath.
Additional accomplishments include¬†Time Warner Cable SportsNet'Äôs Second Screen App¬†for the¬†Los Angeles Lakers,¬†Covered CA¬†in conjunction with the White House ¬†6-hour live health-a-thon¬†'ÄėTell A Friend Get Covered'Äô¬†from Youtube Space LA,¬†social TV network¬†Vidblogger Nation¬†for¬†Comcast,¬†season one¬†of¬†League of Legends¬†national Semi-Finals, Finals & World Championships for¬†Riot Games¬†and five seasons during NY Fashion week for¬†Marc Jacobs.
His productions have been recognized by the Telly Awards, Webby Awards, Streamy Awards, Social TV Awards and the Cannes Lions International Festival of Creativity. Scarpa is a national board member and founding New York committee chair for the Producers Guild of America New Media Council and is a voting member of The Recording Academy.
Personally, he serves on the¬†Global Advisory Committee for Earth Day Networks,¬†a partner with¬†Lifebeat 'Äď The Music Industry Fights AIDS, and a member of the¬†Gate Leadership Council.
Watch Marc's Exploration of Broadcast TV in the Participatory Age